Construction Software Buyer Report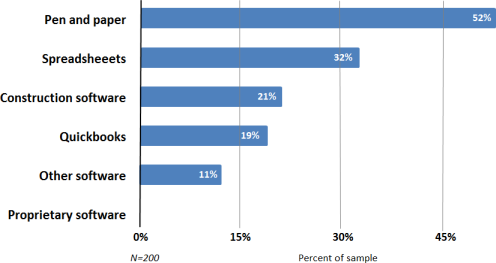 Prospective Buyers' Current Methods
More than half of contractors are still using pen and paper primarily to perform takeoffs, write up bids and conduct estimates. While this is the traditional method of choice for many contractors, it's also incredibly time-consuming.

The perceived learning curve for specialized construction software can also be a barrier for many prospective buyers, however, it's important to recognize that adopting construction software is quickly becoming a necessity, rather than a choice.​
"I'm probably putting in three to four 10-hour days [every time I have] to do estimates for a small batch of projects," says a project manager for a construction renovation company in Tennessee. Estimator360 falls into the 21% of contractors using construction software, but almost 40% of these contractors are not satisfied with their current solution! 

That means only 12% of contractors have an adequate software system. Estimator360 fits in the prestigious category of the 1-2% of construction software solutions on the market which are considered by many to be best-in-class.
Top Reasons for Construction Software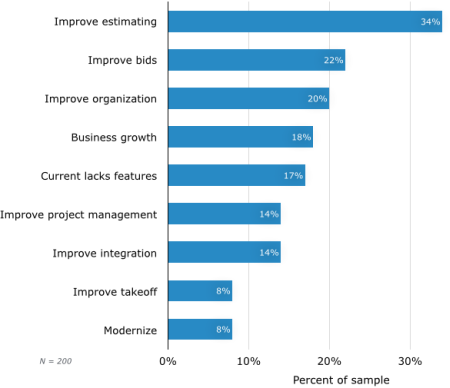 Improving the accuracy of estimates and the quality of bids are the primary reasons contractors seek new software.

Twenty-one percent of prospective buyers are currently using some form of construction software, but 39 percent of current construction software users say their current system lacks critical features (17 percent of the overall sample).

The need to improve organization is another primary driver for seeking software (cited by 20 percent). 
Conducting estimates and bids is a fine line for contractors. Overprice a bid, and they'll likely lose out to the competition; lowball a bid, and the contractors could find themselves working, effectively, to lose money. As such, it makes sense that improving the accuracy of estimates and the quality of bids are the primary reasons contractors seek new software.

Estimator360 focuses first and foremost on improving the estimating process. It does that in many different ways including automated assemblies which control the accuracy of materials and labor, pricing confirmation from suppliers and trade partners, and built-in formulas and calculations which automatically determine quantity values. Added to that is ability to complete an estimate in a fraction of the time it takes for comparable software solutions.
There are a many "pain points" which contractors have to deal with every day which substantially impact how they manage their estimating and construction management requirements. Every contractor has at least some of the pain points identified below.  Estimator360 is specifically designed to address all of these standard pain points!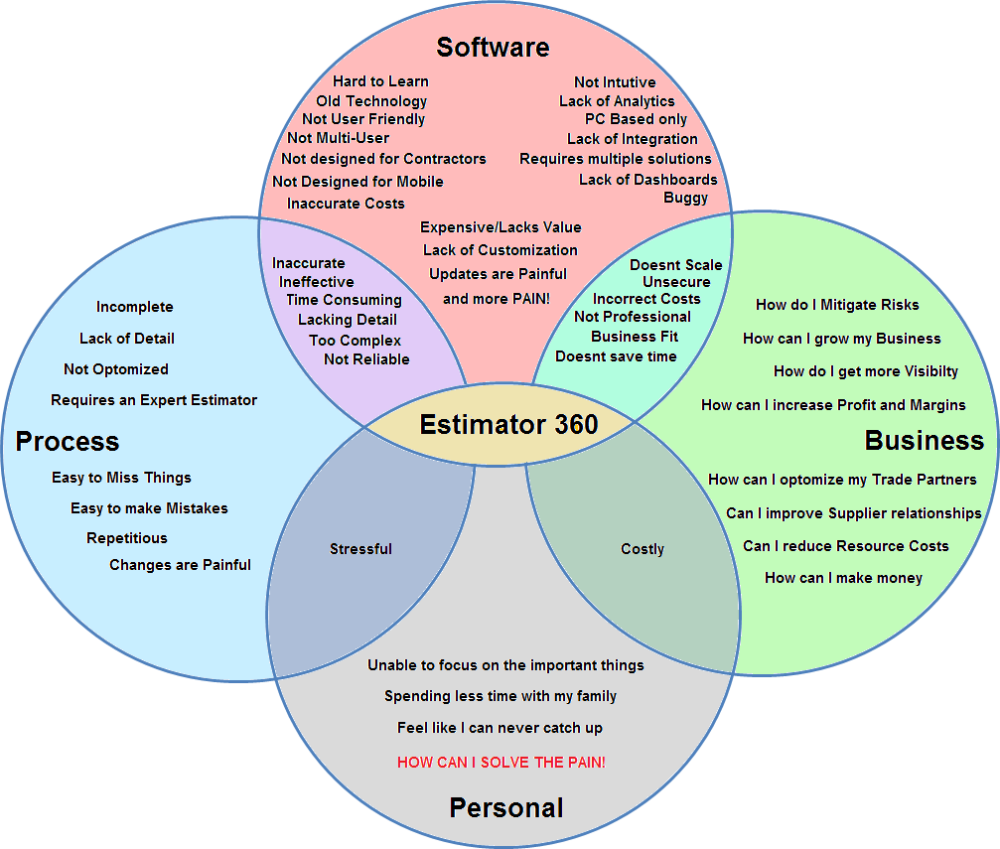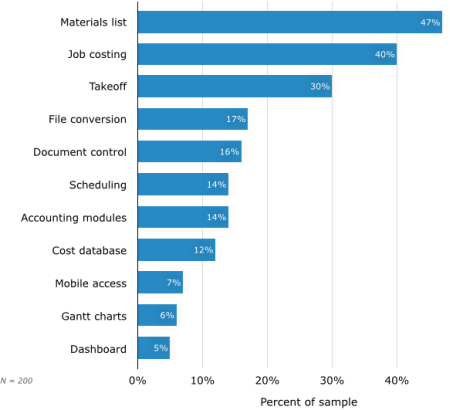 Top-Requested Construction Software Functionality
Nearly half of all contractors (47 percent) specify the need for software that offers constantly updated materials lists. Ideally, the software automatically pings a firm's suppliers for up-to-date price quotes when a takeoff is compiled.

Also of note, nearly one-fifth of prospective buyers are currently using QuickBooks and Takeoff is also commonly requested among the prospective buyers and is critical for any construction business seeking to modernize.

According to our data, prospective buyers dedicate only 0.01 to 0.64 percent of their annual revenue to new construction software, whereas in other industries, the budgets are closer to 3 percent.
Nearly 50% of all contractors are seeking an extensive materials-list functionality. As construction firms are dependent on the supply of physical materials in order to perform work, one common problem firms encounter is wildly fluctuating materials costs—which is a chief cause of inaccurate estimates and bids.  There are two industry methods for doing this as described by Software Advice. "The software automatically pings a firm's suppliers for up-to-date price quotes when a takeoff is compiled" or "The software retrieves pricing information from a cost database maintained by the software provider or a third party".

Most construction software solutions use an industry cost database. This process is very time consuming and requires weeding through thousands of items to create an estimate.  Without a supplier verification process, this method is also inaccurate.  Estimator360 uses a unique and patented workflow process to immediately communicate directly with suppliers and trade partners to obtain the latest up to date pricing for estimates. Labor is already predetermined based upon the specific contractor's business objectives.  Our customers do not require using or maintaining a traditional cost database. Estimator360 takes care of all of this for you.